Success story
ASSIST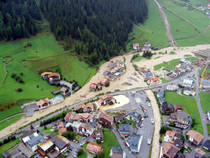 Intro
Alpine Safety, Security, International Service and Technology. Advanced Service Centre for Risk Prevention and Disaster Management in Mountainous Areas.
Background project
Some 30% of the EU territory consisting of 30 million inhabitants encompassing numerous mountain ranges or chains, including the Alps, the Sierra Nevada, the Island of Crete, the Pyrenees, the Apennines, the Sierra da Estrela, the Massif Central, the upper Tatra, the Highlands, the Carpathians, etc. Mountain areas represent over 50% of the territory in Italy, Spain, Greece, Austria, Switzerland and Portugal. ASSIST aims at improving the capabilities of risk warning and crisis management systems in Alpine regions.The related project consortium is composed to reflect both scenarios. It consists of organizations with experience in different application fields: avalanche prediction, mountain rescue, IT system solutions and data management, generation and analysis of Earth Observation products, SAR interferometry, satellite navigation, development of end user devices, etc.
Issue and needs
The main objective of the ASSIST Project was to deliver a pre-operational information service which shall be based on existing systems and products and make use of satellite-based navigation and earth observation (EO) data. ASSIST supports two scenarios: a) day-to-day monitoring and predictions of risk scenarios, and b) operation during concrete crisis situations, each with different requirements in terms of data availability and distribution.
Proposed solution
The underlying idea was to develop and implement a flexible and distributed system for the production exchange and visualization of relevant static and dynamic data required for risk prediction and management of disasters. Basis of the ASSIST system are so-called "Service Nodes". These nodes are autonomously operated by organisations which are responsible for risk and/or crisis management. The Service Nodes are capable of:- requesting and ingesting raw input data,- processing these data into products suitable for risk prevention and crisis management, -distributing the products within the User Network, - exchanging products with other Service Nodes operated by different organisations
Industry perspective
Scope of the ASSIST Project is to bring together different existing systems and infrastructures for the environment and risk monitoring and improve the security for inhabitants and tourists in the alpine region. ASSIST Supports:- Generation of Enhanced EO Products, -Integration of Data from mobile field equipment, -Provision of Positioning an Communication Capabilities. A central advantage of ASSIST is the generic architecture. The implementation is not limited to alpine regions. It can easily be transposed to other areas worldwide.
Specific Targeted Research Project, funded by the European Commission